The Association of Colleges' Beacon Awards celebrate the best and most innovative practice among UK colleges each year. They represent the very best approaches that colleges have developed and are implementing to meet the skills needs of local employers and the career aspirations of their students. 
  .
NOCN Group Award for Mental Health and Wellbeing
The College's work in supporting the mental health and wellbeing of its students has seen the College become one of eight Commended Colleges for the 'NOCN Group Award for Mental Health and Wellbeing' for a second consecutive year.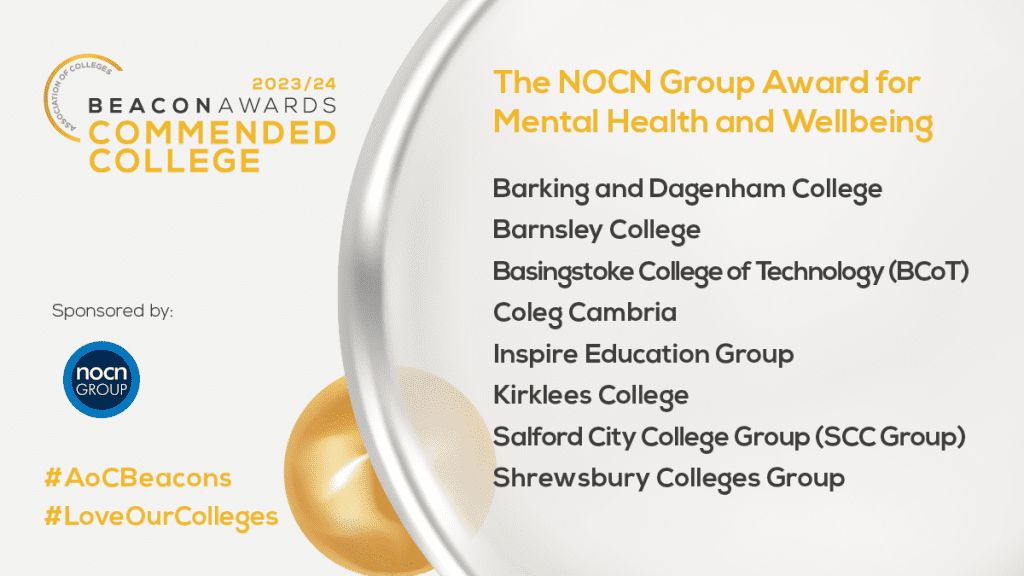 #WELLSTUDENT is an initiative that has been created to encapsulate a vast and varied wellbeing offer available to students at the College. Mental health and wellbeing issues pre-date Covid, however, there has been a significant increase in the demand for college services to support students, with case numbers increasing 4-fold since the pandemic.
  .
#WELLSTUDENT focuses on early intervention and prevention, encouraging students to take ownership of their own wellbeing, developing resilience and in turn reducing the strain on specialist pastoral and safeguarding staff at the College, allowing them to deal with more serious mental health concerns. This has been a shift from a reactive to a proactive approach to wellbeing, that is supported by staff that have undertaken comprehensive CPD.
  .
Students at the College are encouraged to take a pro-active approach to mental health and wellbeing through engaging with the fully inclusive #WELLSTUDENT enrichment programme which also serves as an internal social prescribing offer.  The programme has four distinct categories, physical, emotional, mental and spiritual and all students are encouraged to participate in the activities they feel best meet their needs at any given time. Accompanied by a resilience-based, levelled tutorial programme, #WELLSTUDENT builds a resilient cohort of who are proactive in the care of their mental health at college and beyond.
  .
The City & Guilds Award for College Engagement with Employers
Furthermore, the College's outstanding collaboration with employers has seen the College become one of  10 Commended Colleges for the 
'City & Guilds Award for College Engagement with Employers'.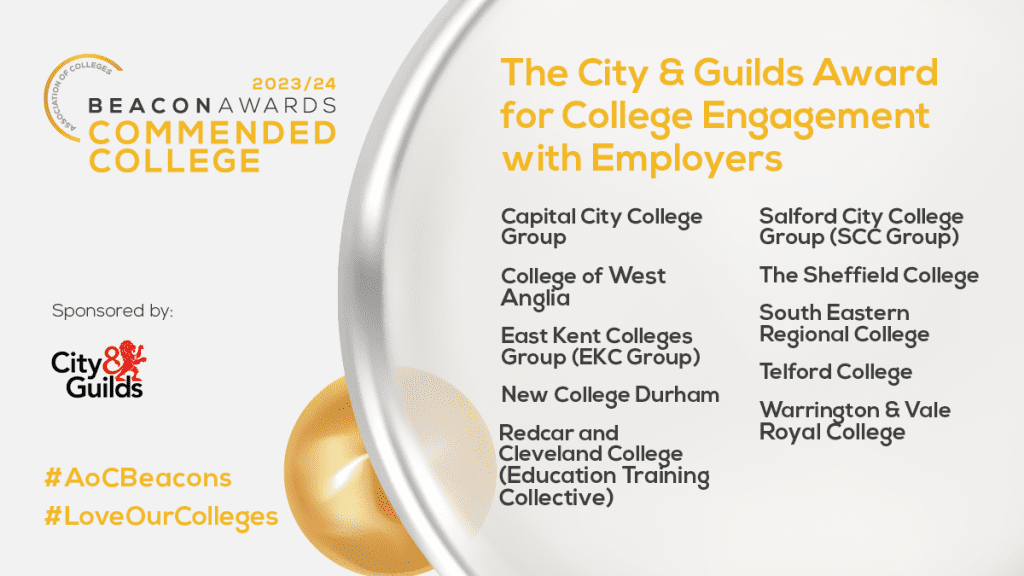 Industry Partners at Salford City College Group is about ensuring long-term, strategic relationships between the College and employers based on talent development, career progression and creating high-quality, long-term opportunities for our students.
  .
Our 10,000 students per year are the future talent for many local, regional and national organisations. By working together with employers strategically to enhance, develop and improve all aspects of our provision, we can be certain that our students are leaving the College Group prepared with the skills, knowledge and behaviours they need to thrive in the workplace.
  .
Through our Industry Partners initiative, we ensure that high quality, innovative and strategic employer engagement is interwoven into the fabric of the College Group. The Industry Partners concept positions the College as a strategic talent partner, across many sectors, all aligned to the economic areas of growth within Greater Manchester.
  .
The initiative has transitioned relationships with employers from one of asking for favours to help learners, to one where relationships with employers are underpinned by the College being seen as a long-term provider of high-quality talent. Employers enhance, inform and co-create curriculum, resulting in increased opportunities and progression for students, ensuring that they are better prepared than ever before to transition into the world of work.
  .
Our industry partners take great pride in supporting the continued development of our staff through industry CPD days, they steer and shape our curriculum through frequent employer curriculum boards. The industry partners initiative tackles skills shortages, under-representation and inclusivity by creating skills solutions that are right for industry and right for all individuals.